Popular Diving in Waikiki Beach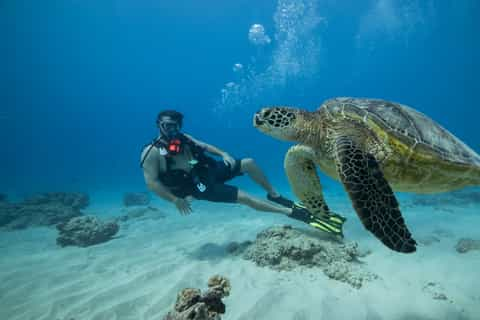 Waikiki: Oahu Discovery Scuba Diving for Beginners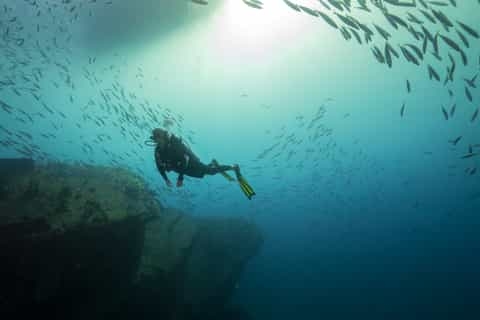 Oahu: Wreck & Reef Scuba Dive for Certified Divers

Oahu: Shallow Reef Scuba Dive for Certified Divers
Free cancellation
Change of plans? No problem. Cancel up to 24 hours before your activity starts for a full refund.
What people are saying about Waikiki Beach
It was absolutely wonderful for my first time dive. There were two stops. The first stop, the instructor tested us one by one on the three key scuba skills. Then we went to the second stop where we all got off and began our first real dive. The sea turtles were so beautiful. For anyone nervous about their first dive, trust me you will be okay. I did want to panic a little when I first got in the water, and it may feel like you're getting a lot of directions and "remember this" at once, but as long as you breathe through your mouth, you will be fine! I do wish we could have spent a little more time underwater. The original end time was 2:30, but we were off the boat by 1:10. Also, they do accept card/PayPal/Venmo for tips on the boat. Finally, uncertified divers cannot bring a camera into the water. It a PADI rule/regulation. Not even GoPros in harnesses
Brand new to the scuba diving world this was an awesome choice for a first experience! Don't let the price scare you. It's worth every penny. My instructor was awesome and very knowledgeable! The boat captain was very personable and they all really made us feel at home. I was worried before we went about how much time we'd actually get in the water being discovery divers, but we got a lot! The gear was very nice as well. Can't wait to go back to work on my certification!
They are very professional! Keven was my dive instructor and he did an awesome job!! He made sure we always stay at a level I was confortable, we descended at slow as I feel comfortable and made sure I was enjoying myself at all times.
Amazing time! Everyone was nice and helpful, it was my 1st time, I freaked out a couple times and they handled it with ease and respect. Definitely recommend.