Popular Tours in The Ride NYC

Brooklyn: Private Custom Walking Tour
Duration options: 4 - 5 hours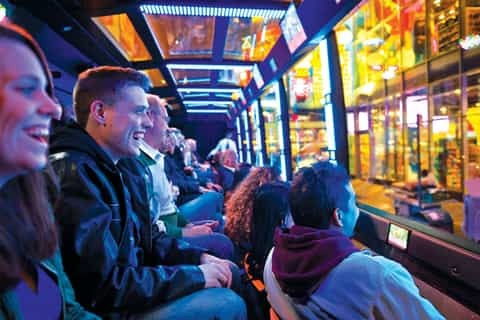 New York: Midtown Manhattan 1.5-Hour Multimedia Bus Tour
Free cancellation
Change of plans? No problem. Cancel up to 24 hours before your activity starts for a full refund.
Top Attractions in New York City
Things to Do in New York City
What people are saying about The Ride NYC
It was really fun except for the fact the bus came 30 minutes late and ended 45 minutes late over all. It wasn't anyone's fault because it is nyc with horrible traffic so I don't want to complain but just want others to know this so they can plan accordingly. We had 10pm bus because I was late to book 9pm one and when everything was done it was midnight. We have two kids, 3rd grader and 1st, and they couldn't enjoy the ride to the fullest because they ended up falling asleep. It was awesome experience though. :)
Didn't really know what to expect but I can highly recommend it. It was such fun. I went with my sister and daughter who is 28, so very different ages and we all loved it. My daughter was blown away with the experience. The staff made it fun but at the same time made it informative.
It was really joyful trip. It's unfortunate for us because it was raining & night session. So it's not that clear & with the performances outside the bus. Overall, it's entertaining, must try if you're in NY!
My second time and my sister's third time on The Ride. My niece's first time. We all had a blast just as we did every time. The team is outstanding and amazing. Has to be the best tour available
Not at all what I was expecting, but it was so much fun! I loved the jokes and the added performers. It was very entertaining and also included facts about the sites.