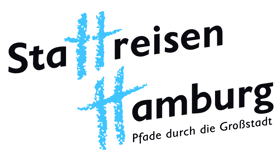 Stattreisen Hamburg – Der Name ist Programm! Seit über 20 Jahren bieten wir unter dem Motto "statt zu reisen" ungewöhnliche Entdeckungstouren durch die Elbmetropole an – und das nicht nur für Einheimische! Pulsierende Quartiere, spannende Architektur, Containerberge, Flusslandschaften, Kultur und Geschichte – das Spektrum unserer Stadtrundgänge, Fahrradtouren und Barkassenfahrten ist schier unerschöpflich. Ob zu den touristischen Highlights oder fernab der ausgetretenen Pfade in unentdeckten Stadtteilen – mit uns erleben Sie Hamburg immer von seiner spannendsten Seite. Wir zeigen Ihnen die Hafencity, St. Pauli und die Innenstadt, berichten vom jüdischen und muslimischen Leben Hamburgs, unterhalten Sie mit Beatles-Touren und Theaterspaziergängen oder schippern mit Ihnen durch den Welthafen. Und wer führt Sie? Alle unsere Stadtrundgänge, Hafenrundfahrten, Theaterspaziergänge und Stadtrallyes werden von geschulten Experten durchgeführt, die dafür sorgen, dass Sie ein abwechslungsreiches und anspruchsvolles Hamburg-Programm erleben. Für Gruppen bieten wir individuelle, maßgeschneiderte Programme für Betriebsausflüge und Familienfeiern, Kongresse und kulturelle Veranstaltungen an und auch Kinder und Schulklassen finden bei uns die passenden, altersgerechten Touren.
Stattreisen Hamburg e.V. offers tours and activities for these attractions:
Stattreisen Hamburg e.V. offers tours and activities in these cities:
Things to do organized by Stattreisen Hamburg e.V.