Popular Gardens & Flowers in San Francisco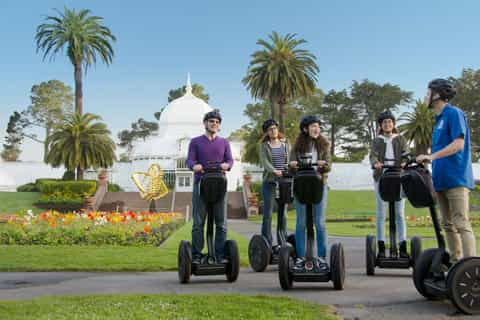 San Francisco Golden Gate Park Segway Tour

San Francisco: Golden Gate Park Private Segway Tour

San Francisco: Golden Gate Park & Ocean Beach Bike Tour
Free cancellation
Change of plans? No problem. Cancel up to 24 hours before your activity starts for a full refund.
Top Attractions in San Francisco
Things to Do in San Francisco
What people are saying about San Francisco
Should be room for 6 or 7 stars!!! The best tour we've had anywhere!
If you take one tour while in San Francisco, make this the one! Our tour guide Ady was remarkable as were all the staff. My wife and I had never been on a Segway before and I have to admit, I was a little nervous. But, honestly, their professional, fun and thorough safety briefings, and the practice they gave us resulted in a group of well trained riders in just 40 minutes. Extraordinary!!!! By the time we left the practice area, equipped with helmets with ear buds so we could listen to our guide, we were a group of "confident Segwayers". Now to the best part. I have been to San Francisco many times and through beautiful Golden Gate Park many times - but I had no idea of the history, the details, the glorious past and the little memorable events that make this the best city part in America!!! Ady, our guide, brought it to life in a 2 hour narration which was not only educational - it was filled with fun and humor - My hats off this group!! Just do it!
The activity was easy to learn! Staffs are very warm and helpful!
I really like the activity. it is easy to learn, even my mom, she is 50 years old, can learn during the trainings session. The training session was through and detailed. I booked the golden gate park ride, it is about 2-hour, and I already feel a little bit tired, so I only recommend the 3-hour trip to younger people. It was a fantastic experience and I will definitely go again.
Unbelievable experience should not be missed.
Tour of San Francisco waterfront and North Beach area on Segways is a great way to see the city. Tour guide Mark had a wealth of knowledge and great sense of humor. Took us up and down the hills and streets after properly training all of us on the correct use of the Segway. This is a great way to see the city and experience it from a new perspective.
Pricey but worth doing once and make sure you wear comfortable shoes.
The price was a bit high. Can't imagine doing this again unless it's cheaper. My son and I loved the staff. They were pleasant, patient, courteous and friendly. The equipment was in good condition. They made you try the Segway around a training area before letting you on your own. They had you practice until you mastered each move.
It was such a fun and well organized tour!
Adar, our tour guide was well informed and funny and made the whole trip quite enjoyable. We were given a proper training session to make sure we were comfortable riding the segway. We were also provided with warm wear which was quite a relief because the it was quite chilly and windy today. All in all, a great experience!