Popular Boat Tours & River Cruises in Maspalomas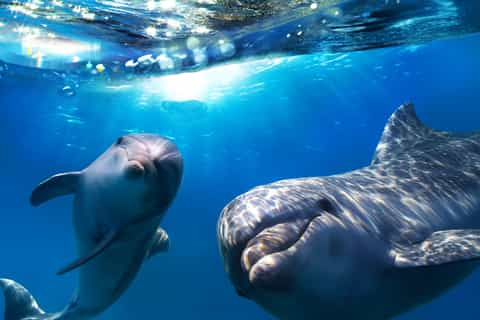 Water activity
Family friendly
Gran Canaria: Dolphin and Whale Watching
Free cancellation
Change of plans? No problem. Cancel up to 24 hours before your activity starts for a full refund.
Top Attractions in Maspalomas
Things to Do in Maspalomas
What people are saying about Maspalomas
A very enjoyable experience, the staff and crew were fantastic, we saw flying fish, dolphins and a whale whilst out on the water, although it took a little time to find them, the crew worked very hard to find them, Highly recommended. The boat is wheelchair accessible, but not for the faint hearted, they have to lift the chair onto the gang-plank which is just wide enough to navigate across, then lift you onto the boat, once on the boat things do improve. There is a ramped entrance into the cabin area, but no designated slot for a wheelchair, but they do accomodate and make the whole experience very pleasant. If you are able to walk a little then this trip is accessible, if not then I would suggest going to Puerto Rico port and checking the access out before booking. I turned up in my compact motorised wheelchair, which is rather heavy and they did manage to get me safely onto the boat, they went above and beyond, but it was a little nerve wraking.
The excursion that was provided by Five Star Boats was amazing. Staff were super friendly and accomadting. However there is a communication problem on the website, i think you need to update the itinary as we paid for the VIP package and due to COVID the boat weren't able to provide towels but obviously its advertised on the website. A few other things that were avertised that didn't happen were the snorking and food was provided but on the website also advertised as a buffet. I understand all the changes were made due to COVID however I think you should make the customers aware of this before they buy without getting the full package. Otherall the excusion was throughly enjoyable and relaxing and was amazing regards.
Perfekt war dass wir nur 16 Personen waren . Gerade in Coronazeiten. Das Personal sehr freundlich und servicebereit. Alles sauber und coronakonform Nur das Premium Buffet war ein Schälchen aus Plastik mit kalten Mojokartoffeln , ein paar Stücken kaltem Hühnchen und Nudelsalat. Das hätte man schoener anrichten koennen mit mehr Geschmack. Dafür wurde auch ein gewisser Betrag berechnet. Denke ich?
Yep :) Well worth every penny. We got lucky and we saw dolphins and whales. Got some great pictures and video. And they do try to educate you about the different species but maybe a microphone and a or a head system so it makes things a bit better to understand? But altogether well worth the 2 hours after we picked the others up at Anti beach first. :)
The guys who were on the boat were exceptional - very friendly!
I loved how passionate the team running the boat were. They stressed that the the animals were free and wild, and we weren't disturbing them. They even pulled out an old fish net from the sea while we were sailing. It showed how much they cared about the ocean and the animals in it, which is a big thing for me!