Frequently asked questions about Marrakech
What top attractions are a must-see in Marrakech?
The must-see attractions in Marrakech are:
Oasiria Water Park

Yves Saint Laurent Museum
What are the best tours in Marrakech?
What are the best day trips and excursions from Marrakech?
The best day trips and excursions from Marrakech are:
Essaouira
What are the best tours to do in Marrakech with kids?
What are the best outdoor activities to do in Marrakech?
The best outdoor activities to do in Marrakech are:
What are the best indoor activities in Marrakech for rainy days?
The best indoor activities in Marrakech for rainy days are:
What are the best inexpensive tours in Marrakech?
These are the best activities when you are visiting Marrakech on a budget:
What are the best deals and discounts on activities and attractions in Marrakech?
These are the best deals and discounts on activities and attractions in Marrakech:
What are the most popular museums and exhibitions in Marrakech?
These are the most popular museums and exhibitions in Marrakech:
5 best day trips from Marrakech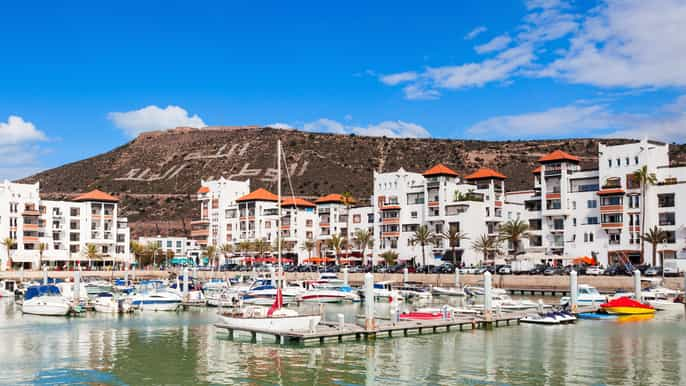 1. Day trip to Agadir
An excellent beach escape, Agadir is a popular destination for surfing, shopping, and more. Morocco's main port city is filled with low-rise modernist architecture and is home to the world's largest sardine harbor. For a bit of history and some of the best views in the city, visit the legendary Kasbah fortress. When you're not busy eating traditional beef-stuffed flatbreads, explore some of the city's fascinating and diverse religious sites like the Mohammed B Mosque, St. Ann Church, and Beth El Synagogue.
How far is Agadir from Marrakech?
At 238 kilometers (148 miles) to the west from Marrakech, it takes approximately three hours by car or bus tour to reach Agadir.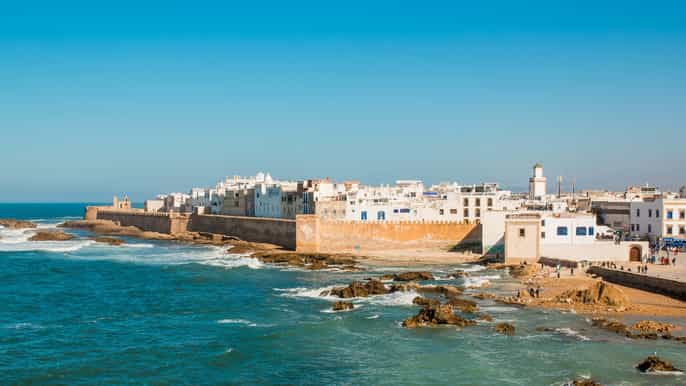 2. Day trip to Essaouira
Two hours from Marrakech, laid-back bohemian vibes permeate Morocco's breezy coastal town of Essaouira. Marvel at the city's historic Portuguese architecture, distinctive blue and white buildings, and walled medina. Visitors can roam the port and watch fishermen unload their boats for a daily fish auction. History buffs will love the Skala du Port, the 16th-century defensive ramparts that once guarded the region attacks from the sea. For a peaceful afternoon, visit Essaouira's stretch of breezy, golden beaches and enjoy fresh-caught fish at a nearby restaurant.
How far is Essaouira from Marrakech?
About 190 kilometers (118 miles) west of Marrakech, the trip to Essaouira usually takes two hours and forty minutes by car or bus.
3. Day trip to High Atlas Mountains
Remote and ethereal, the foothills of the High Atlas Mountains are an ideal destination for those looking to explore the natural beauty of the country. The villages of Imlil Valley and Ouirgane are both great starting points for exploring Toubkal National Park and Toubkal Mountain, the highest summit in North Africa at 6,563 feet (4167 meters). On your descent, venture to see the traditional stone and clay homes and terraces of Ait Oucheg Valley. At the seven waterfalls of Setti Fatma, learn about medicinal plants and local birdlife.
How far are the High Atlas Mountains from Marrakech?
About two hours' drive either in a rental car, hired taxi, or tour bus to reach the foothills of the High Atlas Mountains 57 miles (91 km) from Marrakech.
4. Day trip to Agafay Desert
Less than an hour outside of Marrakech, the Agafay Desert is a closer alternative for those who might want to travel to the Sahara Desert or the Erg Chebbi Dunes. You'll pass fragrant eucalyptus forests and hidden canyons on your journey before seeing the desert's dunes. After you explore the rocky plains, admire Lalla Takerkoust Lake from a shady café with a cup of mint tea. If you have time, drive to Turtle Valley and see the neighboring Marrkchi Desert.
How far is Agafay Desert from Marrakech?
The trip takes approximately 40 minutes by bus or car from the city to reach Lalla Takerkoust Lake.
5. Day trip to Imouzzer
A stunningly beautiful and isolated Berber town in the middle of the Atlas Mountains, Imouzzer can only be reached via steep mountain roads. Walk through the streets, chat with locals, and shop for the region's famous goods: almonds, honey, and argan oil. Leave town to explore the surrounding jungle and stumble upon one of its abundant waterfalls. On the way back to Marrakech, follow Jimi Hendrix's path with a stop at Paradise Valley to appreciate the natural splendor.
How far is Imouzzer from Marrakech?
Imouzzer is approximately 233 kilometers (145 miles) southwest of Marrakech, taking approximately three hours to reach by car or tour bus.
Marrakech Day Trip FAQ
What transportation options are best for my day trip?
The area immediately around Marrakech has limited public bus and train service. In many cases, your best option is to rent a car or join a bus tour.
• Marrakech day trips by train

Unfortunately, traveling to the west of Marrakech or to the Atlas Mountains by train is not possible.

• Marrakech day trips by bus

Local bus service can be used to reach Agadir, Essaouira, Imouzzer, parts of the High Atlas Mountains, and the nearby Agafay Desert, but is often limited and infrequent. Bus tours are a good alternative to reach these day trip destinations.

• Marrakech day trips by car

Renting a car is an ideal way to explore outside of Marrakech. With so much to see and do around the country, you can set your own pace to soak in the culture along the way or tackle multiple destinations in a day with ease.
---
Should I take a guided tour for my day trip?
If you want to see the unknown parts of a city or simply want somebody to plan the details of your trip, nothing beats taking a guided tour. Whether you visit Agadir along the Atlantic Ocean or the villages of the High Atlas Mountains, having a local expert guide can provide you with more in-depth experience of the local culture and history than you'd get on your own.
---
What should I pack for my day trip?
Packing for your day trip will depend on where you visit around Marrakech. In all cases, you should dress comfortably and expect to do a lot of walking or hiking, so wear sturdy shoes. If you plan on visiting a mosque, dress modestly and make sure your shoulders and knees are covered. In fact, it's a good idea to do as the locals do and dress modestly wherever you go in Morocco. If you're traveling to the coast, bring a bathing suit and towel. When traveling into the mountains, expect climate changes, so carrying a light jacket makes sense.
---
Top Attractions in Marrakech
Things to Do in Marrakech
What people are saying about Marrakech
The wonderful sites were sublime and a spectacular to witness . In addition , the activities such as the camel ride in agarfey was amazing . This experience was provided impeccably and with great knowledge and confidence by the amazing romerro. The only guide needed in marrakesh. He introduced us to the way of the berber people and surrounding areas with such comfortability and information . The atlas mountains and waterfall was beautiful . Must do especially with Romerro by your side .
Absolutely amazing experience, the tour was really good value as we got to see and do so many different things and the guides were kind, fun and really dedicated to making sure we were enjoying ourselves. Would definitely recommend!
Beautiful tour, not very large group, excellent organization. Not having much time available, we entrusted ourselves to a tour and, in doing so, we were able to see many interesting landscapes and have beautiful experiences.
Really good trip organization, and excellent guide Romero. Everything went smoothly. We with my son enjoyed it much. Keep up your good work. Thanks!
Romerro was great and we had a really good time with him!