Popular Tickets in Kennedy Space Center

Orlando: Kennedy Space Center Express

Kennedy Space Center Tour and Dine with an Astronaut
Pickup available

Duration: 12 hours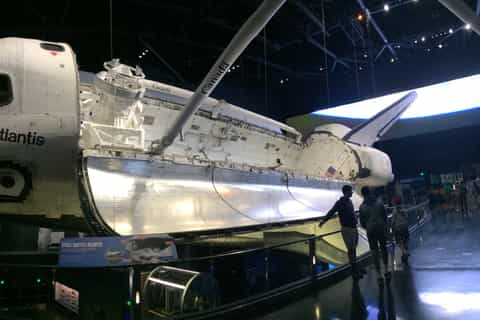 Entry ticket
Family friendly
Kennedy Space Center: Space Pass Entrance Ticket
Free cancellation
Change of plans? No problem. Cancel up to 24 hours before your activity starts for a full refund.
Other Sightseeing Options in Kennedy Space Center
Want to discover all there is to do in Kennedy Space Center? Click here for a full list.
What people are saying about Kennedy Space Center
This Space Pass would have been beyond EXCELLENT if we had purchased it onsite or directly from Kennedy Space Center. We were unable to use the voucher to gain admittance so were sent to Guest Services where we waited in line for nearly 30 minutes. Once we got to the front of the line they did not have our reservation on file because no one from the local GET YOUR GUIDE source had signed us up. The onsite staff were excellent and eventually got us the Lunch Booked as well as the extended bus tour but we were unable to view many of the onsite attractions because of the time wasted trying to get in. We booked using the GET YOUR GUIDE service because it was supposed to get us to the front of the line..... that was not true.
We took our 9 year old Grandson Charlie to meet an Astronaut and what an experience for him and for us. The venue, welcome, service, staff and the lunch was excellent and of the highest standard. A special thanks goes to former Astronaut Don Thomas for spending time with Charlie, answering his questions, signing his photo and a special thanks for his words of encouragement on how to become a future Astronaut or Engineer on the Mars programme .... Watch this space .... A fantastic day out at the Kennedy Space Centre and Lunch with an Astronaut.
It was a great experience and the timing could not have been better. The bus from Orlando was right on rime and our guide was excellent. We got there and he introduced us to all th3 exhibits and left us off at the Atlantis. His advice to me was the shuttle then dine with 5he astronaut (Charlie Walker) and then take the bus tour. After that, there was time to see the other exhibits as I walked towards the meeting point. The ride back was very comfortable and the cool of the air conditioning was very welcome. It was a great experience.
Excellent day but plenty of confusion from staff
The 'Space Pass' ticket was not well understood by Staff on arrival. The lunch with astronaut was great but there were no signs leading to the venue. Numerous people concurred that it was pure luck they found the location. The shows were excellent & the bus tour too. Far too many of the interactive stations in the Atlantis Centre were not working. Overall great but plenty of attention to detail missing. For the price you pay I'd expect more
We thoroughly enjoyed our journey to Kennedy Space Center. The only hitch was a 10 minute wait to get into the center because they did not have an the right voucher number. The ticket agent had to call the tour agency. After that it was amazing, educational, historic, fun & exciting! We would highly recommend getyourguide