Popular Activities with Animals in Fes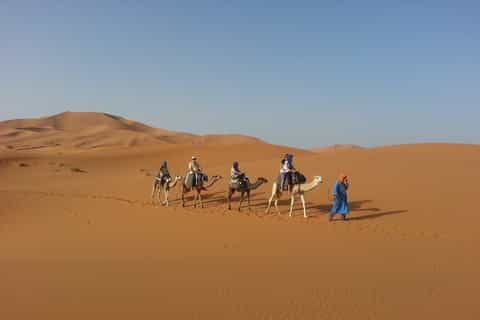 From Fes: 2-Day Small Group Desert Tour
Pickup available

Duration: 2 days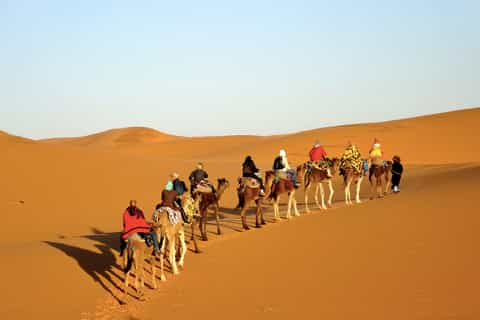 Fes To Marrakech: 3-Day Desert Tour
Pickup available

Duration: 3 days
Free cancellation
Change of plans? No problem. Cancel up to 24 hours before your activity starts for a full refund.
What people are saying about Fes
This tour was an incredible experience, I highly recommend it. Some things to keep in mind to set expectations: You will be in a van quite a bit, the desert is far from Marrakech and Fes. A lot of the roads going through the mountains are under construction and that will slow things down some and make for quite the bumpy ride for sections of the journey. It's 100% worth all the van riding though. My driver Haj was very friendly and made sure everything was as comfortable as possible for everyone along the way. Make sure you bring some Dirhams with you to purchase various little things along the way, like sodas or snacks. I really recommend upgrading to the luxury tent option, I've stayed in hotels in America that weren't as nice as my 'tent' with a hot shower and normal, Western style bathrooms. On this tour you'll get some amazing photos and learn lots of cool things about Morocco and the Berber people.
Really, really great experience. The tour that is described is the tour you will go on. Our hotel room the first night was much much better than we had expected based on the other reviews that we read before the excursion. It had really beautiful furniture and a nice balcony. The standard camping accommodations also exceeded our expectations. There were 2 clean twin beds in a warm tent with warm blankets. We had a really great dinner at the camp site as well. The only thing that could have been made more clear was that the third day of the tour is really only an 8 hour long bus ride from the camping site to fes. It is a beautiful drive though. Also the guides are partnered with local businesses and will take you to tourist traps. There are much cheaper places to buy scarves and lunches. Our driver Haaj was the best! The tour guides were funny and smart. Would definitely recommend this tour.
Simo, our guide was absolutely amazing. Very nice and easy going, excellent English. Very good driving skills. We felt really safe. He came and picked us up from our hotel at the exact time. The tour it's amazing. The journey from Fes to the desert is long but there are enough stops so you don't feel tired. We had all lunch at a very good restaurant recommended by Simo. The highlight is the night spent at the camp in Sahara desert with the local guys, who will cook for you fresh food and sing around the fire under the stars. The camp is safe. There is hot shower and toilet in the tents. In the morning, they will serve you a delicious breakfast. You will also ride the camel in the desert and the guys will take you photos. Everybody is friendly, helpful. Absolutely recommend this tour. You will never ever regret.
This was a great tour to the Merzouga desert, easily the highlight of my trip to Morocco! A special mention goes to Reda, our tour guide, who was very friendly and did an amazing job! The minibus picked us up in Marrakech and stopped in different landmarks on the way to the desert. We stayed in a nice 4 star hotel in Tinghir the first night, and in a camp in the desert (A lot nicer than what I was expecting) the second night, where a group of locals entertained us around a campfire in the evening. On the way back there weren't enough people going to Fes (most of my group was going back to Marrakech), so a car ride with just 4 people was arranged instead (at no extra cost), to drive us to our destination. I'd totally recommend this tour!
I had a great time on my 2-day/1-night desert trip from Fès. Hassan was a great driver! Always punctual, friendly & informative. Travelling solo, I was given a private-tour in a 4x4, with only one other traveller. Communication prior to the trip was great. Imane responded to all my questions in a quick and courteous manner. That wasn't the case with some of the other tour providers I was corresponding with, so I'm thoroughly glad I went with this company in the end. A word to the wise, camel rides can be bumpy and walking up sand-dunes is a great workout for your calves, if you're into that sort of thing. Definitely worth it for the sunset views over Erg Chebbi!