Pere Lachaise Cemetery: Tours & Tickets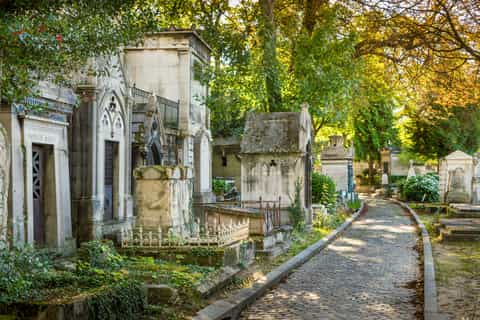 Père Lachaise Cemetery: Walking Tour
Duration options: 2 - 3 hours

Paris: Père Lachaise Cemetery Walking Tour
Small group

Duration options: 2 - 2.5 hours
Free cancellation
Change of plans? No problem. Cancel up to 24 hours before your activity starts for a full refund.
What people are saying about Pere Lachaise Cemetery
This tour far exceeded our already high expectations.
Fred's incredible knowledge and insight and passion and humor were a treat. He has clearly found his niche and I cannot imagine a more worthwhile way to experience a slice of Paris than to get to come along with Fred and dive into the incredibly rich and complex and beautiful life of a place like Pere Lachaise and explore the many layers and wonders hidden just beneath the surface. I imagine it's an experience of Paris rarely encountered by tourists and an amazing chance to enhance a visit to an amazing city. Fred's skill, knowledge, humor and professionalism were extraordinarily impressive and much appreciated by all in our party. What a great way to see the place and an invaluable insight into Parisian culture and aesthetic. We could not recommend more.
This was a fantastic tour in Pere Lachaise.
I was one of two people on the tour, so it felt as if it was a private tour. The tour guide was fantastic - chock full of information and very personable. He really made the cemetery come alive, so to speak, with stories of its history and inhabitants. I loved the quiet ambience of the cemetery. While there are tourists, there were not a ton the day of my tour and they were all quiet and respectful as one would hope in a cemetery.
Fred was a fantastic guide and patiently answered all our questions, which stretched the tour for nearly an hour longer than planned. He is well-informed, witty and engaging. We learned a lot about the cemetery, French history and many other topics.
Superbe visite! J'y suis aller avec une amie (nous avons la vingtaine) et nous avons beaucoup apprécié cette visite. Le guide (Thierry Le Roi) était super et nous racontait des anecdotes. Vraiment à recommander, n'hésitez plus !
Visite passionnante avec un guide cultivé qui connaît très bien les lieux. On aurait jamais vu autant de choses intéressantes seuls ! Il y a de quoi se perdre au Père Lachaise. Je recommande vivement cette visite guidée.