SeaWorld Orlando: Tours & Tickets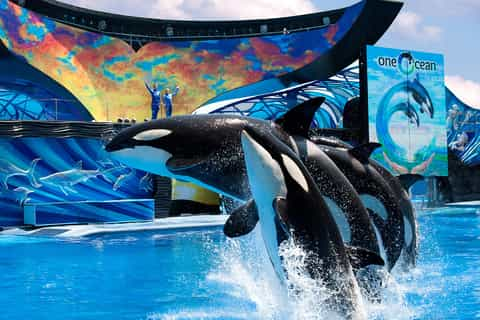 Entry ticket
Family friendly
SeaWorld Orlando: Park Admission Ticket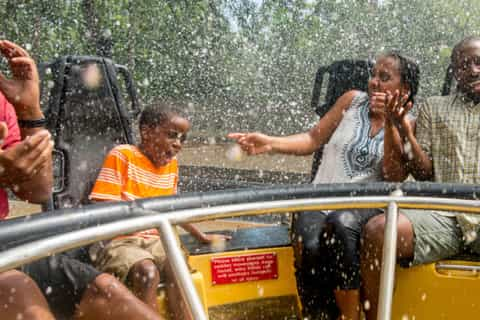 Entry ticket
Family friendly
Tampa: Busch Gardens Tampa Bay Admission Ticket
Duration options: 1 day - 1 month

Orlando: Aquatica Water Park Admission Ticket
Free cancellation
Change of plans? No problem. Cancel up to 24 hours before your activity starts for a full refund.
5 reasons to visit SeaWorld Orlando
SeaWorld Orlando is one of the US' most renowned theme parks. Though it's most famous for its aquariums and water shows, it also boasts an array of other attractions, including rides. Here are the best reasons to splash out on a visit!
1. Signature Shows

SeaWorld's classic aquatic displays remain one of its key draws. Witness the majesty of dolphins, killer whales, and other creatures performing at one of 3 arenas!

2. Kraken

The mythical Kraken terrified sailors for centuries, but meeting it must have been a paddle in the shallow end compared to this intense rollercoaster! Leave valuables in a locker!

3. Sky Tower

As old as the park itself, the retro observation tower offers a seagull's view of the entire theme park from over 120 meters up!

4. Wild Arctic

This flight simulator takes you through the perils of North Pole exploration, but if that's not enough you can also meet the animals themselves on the Wild Arctic Up-Close Tour!

5. Shark Encounter

SeaWorld offers the opportunity to get up close with many creatures from sea lions to penguins to baby dolphins, but there are many you'd probably prefer not to feed!
Planning Your Visit
What are the opening times?

SeaWorld Orlando is open daily from 9:00AM. Closing times vary depending on the season, holidays, and special events. More information can be found on [their website] (seaworldparks.com/seaworld-orlando), where you can also check the events program to help decide on the best time to visit!

What to wear?

Prepare to get wet if you don't want to miss out on much of what the park offers! Consider bringing two pairs of footwear (flip-flops or water shoes and sneakers) and alternating depending on which part of the park you're visiting. Lockers are available for a small fee so you don't need to carry all your belongings with you. Dress casually and comfortably and don't forget to wear sunscreen!
Good to know
When should I visit?

The park opens at 9:00AM but closes at varying times throughout the year.

Is it expensive?

Tickets start at $75, with many packages available.

Will I need a guide?

There are various tours available around (and over!) the Orlando area.

How to get there

The I-4 and FL-528 freeways both lead to SeaWorld. Directions vary depending on where you stay.

Additional information

You may want to bring a waterproof camera along for the day. | To avoid mealtime crowds, visit a restaurant while shows are happening. | Temperatures can get hot, so map out the cooler attractions in the park to beat the heat.
What people are saying about SeaWorld Orlando
First time visiting SeaWorld. My plans were to Epcot Center but even with a ticket bought in advance we were not able to get in because needs a park reservation and nobody told us that. We tried the SeaWorld website and in few minutes had our tickets and were in our way to one of our best days in Orlando. From buying tickets to the food, I surely recommend everything about SeaWorld.
We had no problem using the vouchers, the shows were very good and the employees are well trained to ensure that the guests have an enjoyable experience.
Great activities, rides, and shows and low crowds!
If you are tired of the crowds of Disney and like animals then Sea World is a nice alternative. Clean park, accommodating and friendly!