5 best day trips from Edinburgh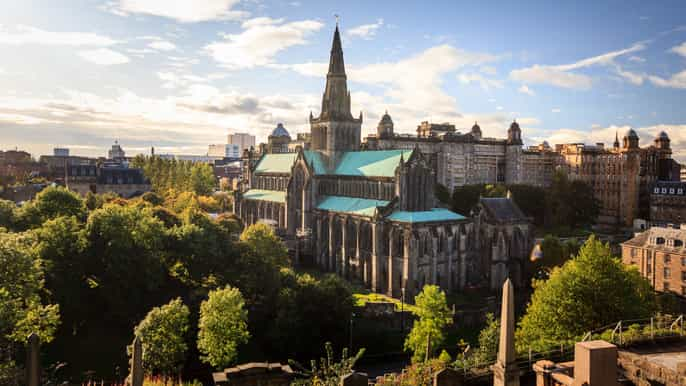 1. Day trip to Glasgow
As the most populous city in Scotland, Glasgow is an ideal place to spend an exciting day. A bustling port city and a capital of culture, there is so much to do in Glasgow, it's hard to know where to begin. Whether you're a history buff, an art connoisseur, or a gastronomy aficionado, this city has it all. Some of the most popular attractions are the 12th-century Glasgow Cathedral, the Kelvingrove Art Gallery and Museum, and the Riverside Museum, with its ultra-modern design.
How far is Glasgow from Edinburgh?
A day trip from Edinburgh to Glasgow is within easy reach, just 75 kilometers (46 miles) away. By car, it takes just over about an hour, while the train will get you to your destination in a quick 45 minutes.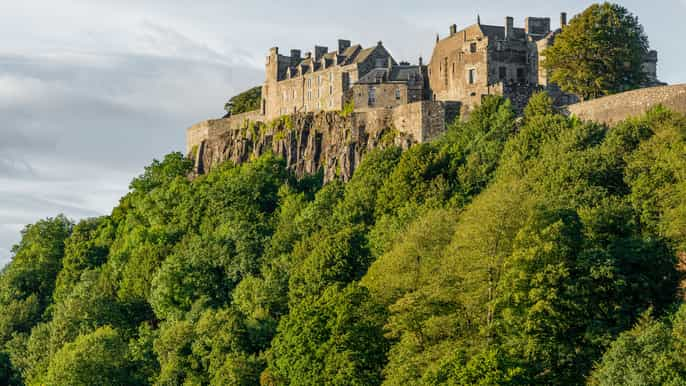 2. Day trip to Stirling
Best known for the grand and imposing Stirling Castle that shares its name, a day trip from Edinburgh to Stirling offers travelers an incredible escape. This "gateway to the Highlands" was once the capital of the Kingdom of Scotland, and a major battle for independence was fought at the still standing Stirling Bridge. Nearby, the National Wallace Monument commemorates several heroes of independence — including the namesake of "Braveheart" himself, William Wallace — and also provides visitors with fantastic views from its top.
How far is Stirling from Edinburgh?
Located in central Scotland, Stirling is 58 kilometers (36 miles) from Edinburgh. By car, bus or train, the journey will take you just under an hour.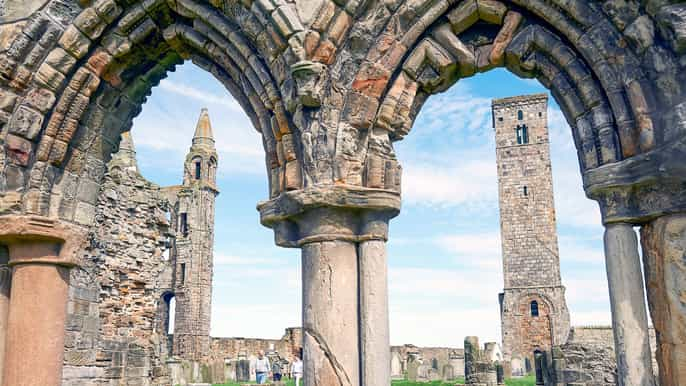 3. Day trip to St. Andrews
Not too far from Edinburgh is the quintessential seaside town of St. Andrews. The town is home to the illustrious University of St. Andrews, the oldest in Scotland and alma matter of British monarchs past, present, and future. For golfers, St. Andrews is a bucket list pilgrimage, as the birthplace of the sport. Don't miss out on a few holes on the original course of St. Andrews Links, or pay a visit to The British Golf Museum.
How far is St. Andrews from Edinburgh?
Driving the 83 miles to St. Andrews should take just under 90 minutes, while the train can take up to an hour and 45 minutes.
4. Day trip to Roslin
For travelers wanting to experience a peaceful day in the country, Roslin is an excellent choice. Fans of Dan Brown's "The DaVinci Code" will already know about Rosslyn Chapel — in lore recognized for its supposed connection to the Freemasons and Knights Templar. Architecture buffs will enjoy the chapel's interesting layout and intricate stone carvings. Beyond the chapel, visitors of the town can see the ruins of Roslin Castle and the tranquil Roslin Glen Country Park.
How far is Roslin from Edinburgh?
Only 12 kilometers (7.5 miles) south of Edinburgh, a car ride to Roslin takes just about half an hour, while the bus takes anywhere from 45 minutes to an hour.
5. Day trip to Perth
A day trip from Edinburgh to Perth is a wonderful way to get to know the city on the shores of the River Tay. Tempt fate with a visit to the must-see Scone Palace, the original home of the Stone of Destiny. Apart from the palace, visitors can check out the Black Watch Museum, St. John's Kirk, and the Fair Maid's House — the oldest secular building in the city.
How far is Perth from Edinburgh?
By car, you can make the 70-kilometer (43 mile) journey to Perth in just about an hour. On public transportation, the trip can take up to 90 minutes.
Edinburgh day trip FAQ
What transportation is the best choice for my day trip?
Trying to plan your journey to Perth? Or wondering the best way to get to Glasgow? There are plenty of different transportation options for any day trip, and one is sure to be just right for you.
• Edinburgh day trips by train

Scotland's rail network covers its seven main cities and many stops in-between. Taking the train is a quick and convenient way to get around, and allows you to sit back, relax, and enjoy the country's rugged natural scenery.

• Edinburgh day trips by bus

In addition to the many guided bus tours available for day trips from Edinburgh, taking the bus is an easy way to get around Scotland. For more rural areas, the bus may be your only public transportation method available.

• Edinburgh day trips by car

Scotland is an epic place for a road trip. A car makes it easy to be spontaneous and discover all the surprises and hidden gems along the way. Have the freedom to make your own itinerary and take as much time as you like for your day trip.
---
Should I take a guided tour for my day trip?
Whether you're looking to make new friends with similar interests, avoid driving on the left side of the road, or simply want to skip the hassle of planning, a guided tour can help you make the most of your trip. In addition to taking the stress out of planning, a good guide can provide insider knowledge to really enrich your experience in a destination.
---
What should I pack for my day trip?
There are all kinds of things to consider when deciding what to bring on a day trip. The destination, season and type of travel can all make an impact on your packing. For those taking a guided tour, your ticket might include everything you need. However, since most Edinburgh day trips are focused in Scotland and Northern England, it's a smart bet to bring some rain gear or warm clothes regardless of the time of year.
---
Top Attractions in Edinburgh
Things to Do in Edinburgh
What people are saying about Edinburgh
It was our first visit to Scotland and we had a lovely day on the Loch Ness tour. There was so much to see. Our guide and coach driver Andrew J obviously loves history and had loads of stories and interesting and funny facts to tell us. We learned loads of good stuff. Even my teenage daughter who usually finds everything 'cringey'and' tragic'thoroughly enjoyed herself too!
Even though the weather did not cooperate, we still had a lovely time! im sure the views would have been better with some sunshine but it was still beautiful nonetheless. Our guide, Neil, was impressive! He remained energetic all throughout the trip even though it was tiring having to drive at the same time. Would definitely book another trip when we come back!
Our trip to Loch Ness was such a great experience. The sights were absolutely breathtaking, and our guide (Andrew J) made the experience interactive through storytelling, jokes, and questions - this was great because we sort of expected to spend 12 hours on a bus in silence. Such an amazing day, we're already planning our trip back to the Highlands!
The tour was amazing. It was extremely well organised and we had a wonderful time! Special thanks to our driver and guide Andrew Jay who entertained us with his brilliant stories. Would recommend this tour 100%
Beautiful experience, breathtaking views ... our driver / guide, Andrew J "Casper", besides being very nice, extremely thorough in the explanations ... I highly recommend !!