CBTs - COSTA BLANCA TOUR Services.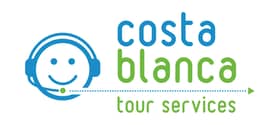 Servicios de Asistencia Turística en la Comunidad Valenciana.- (Valencia- Alicante.- Benidorm y Costa Blanca). Somos la Secretaría Técnica de la Asociación de Guías de Turismo Habilitados por el Gobierno Valenciano. Abarcamos hasta 12 idiomas. Damos servicios de Guías en cruceros, hoteles, asistencia en aeropuertos, transfers, hospitality desk. Realizamos visitas guiadas VIP en coches de 7 plazas. Ayudamos en la organización de congresos e incentivos. Realizamos visitas guiadas en vehículos Segways y bicicletas de nuestra propiedad. Disponemos de equipos inalámbricos de transmisores "radio-guías" para mejorar la calidad y comunicación con los grupos en las visitas guiadas.
CBTs - COSTA BLANCA TOUR Services. offers tours and activities in these cities:
Things to do organized by CBTs - COSTA BLANCA TOUR Services.