Frequently asked questions about Auckland
What top attractions are a must-see in Auckland?
The must-see attractions in Auckland are:
What are the best tours in Auckland?
What are the best day trips and excursions from Auckland?
The best day trips and excursions from Auckland are:
Rotorua
What are the best tours to do in Auckland with kids?
The best tours to do in Auckland with kids are:
What are the best outdoor activities to do in Auckland?
The best outdoor activities to do in Auckland are:
What are the best indoor activities in Auckland for rainy days?
The best indoor activities in Auckland for rainy days are:
What are the most popular museums and exhibitions in Auckland?
These are the most popular museums and exhibitions in Auckland:
5 best day trips from Auckland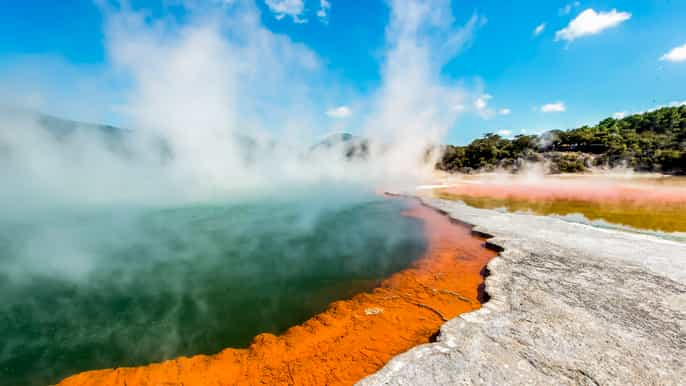 1. Day trip to Rotorua
Rotorua is one of the most popular destinations for travelers in New Zealand. The area is well-known for its geothermal activity, like the famous Pohutu Geyser and Lady Knox Geyser, as well as the numerous hot mud pools and springs. The area is rich in Maori heritage, which people can learn about at villages like Te Puia. Finally, take in gorgeous vistas of Lake Rotorua from the Skyline Rotorua gondola.
How far is Rotorua from Auckland?
Be sure to leave early, as it will take around 3 hours to drive the 228 kilometers (141 miles) from Auckland to Rotorua. The bus will usually take an average of four hours.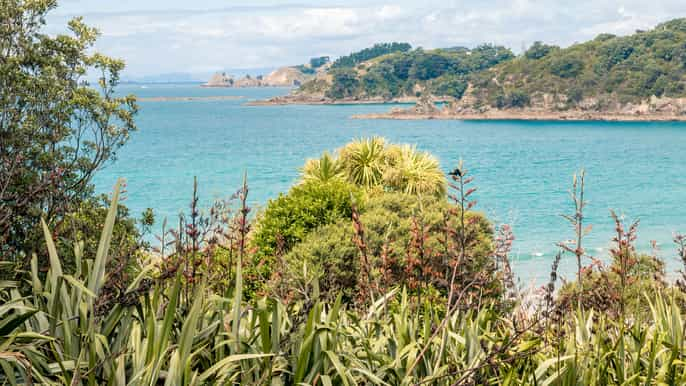 2. Day trip to Waiheke Island
Head out into the Hauraki Gulf to discover the incredible Waiheke Island. Waiheke has been called one of the best islands in the world to visit for good reason. Wine tasting at one of the many vineyards like Cable Bay Vineyard and Mudbrick Vineyard is one of the favorite activities on the island. Aside from sampling the local wares, visitors also enjoy swimming at Oneroa Beach and the thrill of EcoZip Adventures ziplining. Make sure to admire the works of local artists in the island's many art galleries.
How far is Waiheke Island from Auckland?
Passenger and vehicle ferries run the 16 kilometers (10 miles) directly from downtown Auckland to Matiatia and take around 35 minutes. A vehicle ferry also operates from Half Moon Bay to Waiheke Island.
3. Day trip to Matakana
Prepare for a feast of the senses on your day trip from Auckland to Matakana. The town is known for its market, surrounding vineyards, and artisanal food shops, making it a food lover's dream. Travelers absolutely must visit the Matakana Farmers' Market and sample the fresh produce and other delicious things to eat. Make sure to stroll along the Bricks Bay Sculpture Trail at the Bricks Bay Winery and hit the beach at Tawharanui Regional Park.
How far is Matakana from Auckland?
It only takes an hour to drive the 67 kilometers (41 miles) from Auckland to Matakana. There is no direct bus, with transfers taking place at Warkworth. The overall bus journey takes a bit over 90 minutes.
4. Day trip to the Coromandel Peninsula
If you're looking to experience New Zealand's famed natural beauty, spend a day on the Coromandel Peninsula. Karangahake Gorge is a must-see destination, while Coromandel Forest Park is the ideal place to explore the lush vegetation of the area. Take a ride up the mountain on the narrow-gauge Driving Creek Railway and be rewarded with incredible panoramic views.
How far is the Coromandel Peninsula from Auckland?
Taking the ferry from downtown Auckland, the 45-kilometer (28-mile) boat ride across the Firth of Thames to the Coromandel Peninsula takes two hours. If you plan to drive around the firth, the distance increases to 190 kilometers (118 miles) and takes closer to three hours.
5. Day trip to Hamilton and Waitomo
A trip to Hamilton and Waitomo offers something for everybody. Hamilton is one of the largest cities in the country, with many things to do and see, like the formal Hamilton Gardens or the Waikato Museum, where visitors can learn about local art and history. Before heading back, make your way out of town to Waitomo and experience the enchanting illumination of the Waitomo Glowworm Caves.
How far are Hamilton and Waitomo from Auckland?
Hamilton is situated 125 kilometers (77 miles) south of Auckland, while Waitomo is a bit farther at 193 kilometers (120 kilometers). Driving takes about an hour and 40 minutes to Hamilton, and two and a half hours to Waitomo. If traveling by bus, the trip usually takes around two hours.
Auckland day trip FAQ
What transportation options are best for my day trip?
Whether you're headed to the center of the North Island or another island entirely, figuring out how to get around New Zealand can be difficult without the right information.
• Auckland day trips by train

Most train routes in New Zealand only run between major cities. The train is not the fastest way to get around, but the views of the country provide an amazing journey and experience of their own.

• Auckland day trips by bus

If you don't plan on renting a car, the bus is always your best option for traveling around New Zealand. Buses run to almost every town, though they may not be the fastest travel method. Most importantly, the bus is an affordable option for your transportation.

• Auckland day trips by car

Traveling by car is the ideal way to take a day trip from Auckland. To get out into nature and away from the main towns, a car might be your only option.
---
Should I take a guided tour for my day trip?
With so much to do and see around Auckland, a guided tour is a fantastic option for most travelers. An expert guide can provide you with historical and cultural information that can transform your trip. In addition, guided tours often help you take care of the logistics and transportation so you don't have to plan a thing.
---
What should I pack for my day trip?
No matter where you're headed, always make sure to bring water, sunscreen, and probably a hat. The elements in New Zealand can be harsh, so make sure to check the weather before you head out.
---
What people are saying about Auckland
Our driver/guide David met us as we got off the ferry. We joined others and head out. The drive to our first winery gave us a glimpse of this beautiful island. All four wineries were all a bit different. All the wines were delicious. David was a great guide mixing humor with information. Definitely recommend
Very informative. Sunny Mike made the day enjoyable. Auckland area was covered extensively during the day, made it all very interesting. Looked after very well. Thank you
Extremely well organized. Tour of movie set great, lunch awesome and cave tour was wonderfully unique. Highly recommend this tour!
Great guide! Her small dog accompanied us and added to the experience. Good wine and beautiful scenery.
Amazing trip to hobiton and waitomo caves, it's the Best option if You are a shorts time in auckland